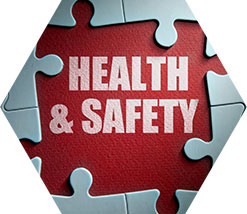 We have a fully registered and operative Enterprise Bargaining Agreement in place.
Workers Compensation and Public Liability insurance polices are in place and financially current.
Company Safety policy has been devised and all employees have been instructed in it and compliance is monitored.
We are in accordance with the Occupational Health & Safety requirements in Building Trade Practice Act.
Warranties and Guarantees
As a major user of reconstituted stone, Al waad Marble & Granite Pvt Ltd enjoys the distributor warranty that the reconstituted stone such as CaesarStone and Quantum Quartz warrants the Slab as supplied by the distributor to the Supplier was and will remain for a period of ten years computed from the date of installation of the Benchtop, free from defects arising in the manufacture of the Slab. Prime Marble & Granite guarantees our stonemason's workmanship up to seven years